We are excited to announce our 2022 Destination Imagination (DI) scholarship winners.
The DI Graduate of the Year Award is open to students who are graduating from high school or college/university/trade school in 2022. Applicants were required to be currently involved in Destination Imagination as a team member or volunteer. Due to the overwhelming quality of the candidate pool, DI has chosen two Graduates of the Year. Each recipient will receive a $1,500 award to further their post-secondary education and will receive the opportunity to participate in the Fall 2022 DI internship program.
DI Graduates of the Year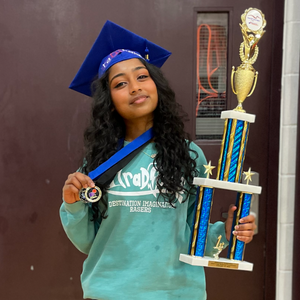 Shreia Sunderamoorthi (Texas)
Shreia is a true collaborator – working closely with her team to develop creative solutions to solve their challenge of the year, researching technical methods to implement in their final presentation, and working tirelessly towards their service-learning mission of educating elementary students and making them aware of how to save a life by performing CPR. Shreia is a remarkably inquisitive and thoughtful student. At every meeting, Shreia comes prepared to give her heart and soul to her team by asking curious questions, brainstorming new ideas for their solutions, and by being a genuine team player who is respectful of her team members and their opinions.
Shreia also makes it a point to interconnect her passions, and these passions permeate each activity in which she chooses to engage. As part of her Girl Scout Junior troop, Shreia went from selling cookies every year to now completing her Gold Award. She has dedicated herself by being a true servant leader and volunteering for the causes she believes in.
Check out Shreia's creative video response.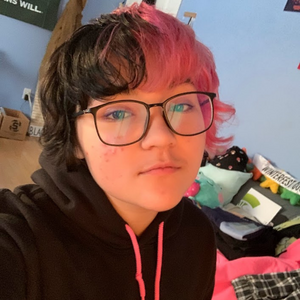 Jackson Cosme-Brooks (Michigan)
Jackson is described as knowledgeable, inquisitive, disciplined, and personable. His bright mind is always at work, analyzing and making assessments about societal, social, and academic structures as well as individual problems. Jackson knows there is always room for improvement and a better way things could be done, and he cheerfully and charismatically challenges the status quo. His inquisitive and analytical mind is matched with supreme intelligence and good judgment, so as far as I'm concerned, we should all be listening to Jackson.
Jackson's skills and ambition have led to many accomplishments. Academically, he has challenged himself with six Advanced Placement courses and a myriad of honors courses. All the while, he has served as Drum Major for the marching band and Student Representative for the Michigan Creativity Association Board of Directors, is a member of Holt's GSA and NHS, was nominated for and served on the Winterfest Court, helps lead the school theater program, and more. His extracurricular activities showcase that his interests are not only vast and offer balance to his rigorous academic load, but they are rooted in creativity, service, and leadership.
Jackson plans to attend Michigan State University, where he will be majoring in Actuarial Science through the Honors College. I am so proud that he has chosen a path that will challenge and suit his brilliant mind and afford him an opportunity to continue making a positive difference in our area. Investing in Jackson with your scholarship is not only an investment in the future of one great young person, but it is also an investment in our local community.
Check out Jackson's creative response to the scholarship prompt.
Founders Award Winner
The Founders Award was established in honor and appreciation of the hundreds of volunteers who came together to make the DI network and community a reality. This award is given annually to the applicant that best exemplifies the spirit of Destination Imagination through volunteering in support of Destination Imagination and its mission and creating impact for the organization and its participants. One recipient will be selected to receive a $1,000 award and will receive the opportunity to participate in the Fall 2022 DI internship program.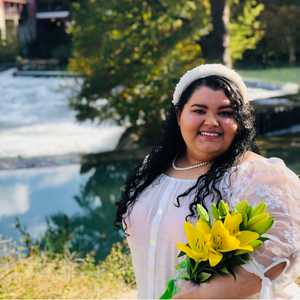 Serenity de Leon (Texas)
Serenity is an exemplary Destination Imagination volunteer. She spent her 21st birthday volunteering for the 2022 Destination Imagination "Texas Lone Star Finals" Affiliate Tournament. She made it her goal to surround herself with those who inspire her and empower the mission of service to the community. Her extensive involvement in Destination Imagination, proven dedication, and leadership development illustrates her passion for change and service to her community. Since kindergarten, she has been involved with DI for thirteen years and has competed at the Regional, State, and Global levels. She earned 1st place at Regionals (ten years), advanced to Affiliate competition, advanced to Globals Finals, and competed among the best in the world eight times! She currently volunteers as Texas Central Regional Marketing Coordinator and Challenge Master for Destination Imagination and is an Appraiser for Regional and Affiliate Tournaments. She plans to obtain a degree in political science and a minor in business administration. Later, she plans to attend graduate school, study public administration, and dedicate her life to public service.
Thank you to all of our students who applied this year. To learn more about how to stay involved with the Destination Imagination alumni community, visit our alumni page.