Thanks for making the Destination Imagination (DI) Run the World Virtual 5K a huge success! We loved watching our community come together to celebrate creativity in our first-ever charity race. More than 280 of you laced up your sparkliest shoes to support DI, and because of your support, more than $7,800 was raised to help us continue to build creative and resilient kids and communities all over the world.
So many of you shared your most creative 5K race attire. The imagination of our global community was on full display and it made it difficult to choose only three to feature here, but these supporters really brought it with their costume choices. Each of these winners will receive a SUPER SECRET DI MYSTERY PRIZE! Congrats to these creative individuals!
Creative Costume Winners
Best Metamorphosis
Miranda Lebednick, age 14, from Farmington Hills, Michigan
Miranda created a costume, hand-painted and hand-sewn, for the Scientific Challenge, but was not able to wear it at Global Finals. So, she started her 5K as a caterpillar, transformed into the chrysalis, and then finally hatched into a butterfly to finish the last 1.6 miles of her race. Way to go, Miranda!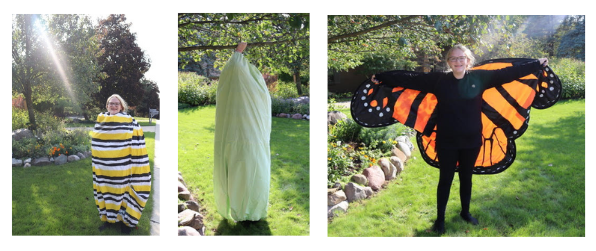 Most Colorful
The Deru Family from Arvada, Colorado
This family of six decided to dress up in a colorful rainbow of outfits to brighten the day. The Deru Family took this photo while completing their 5K at White Ranch in Golden Colorado.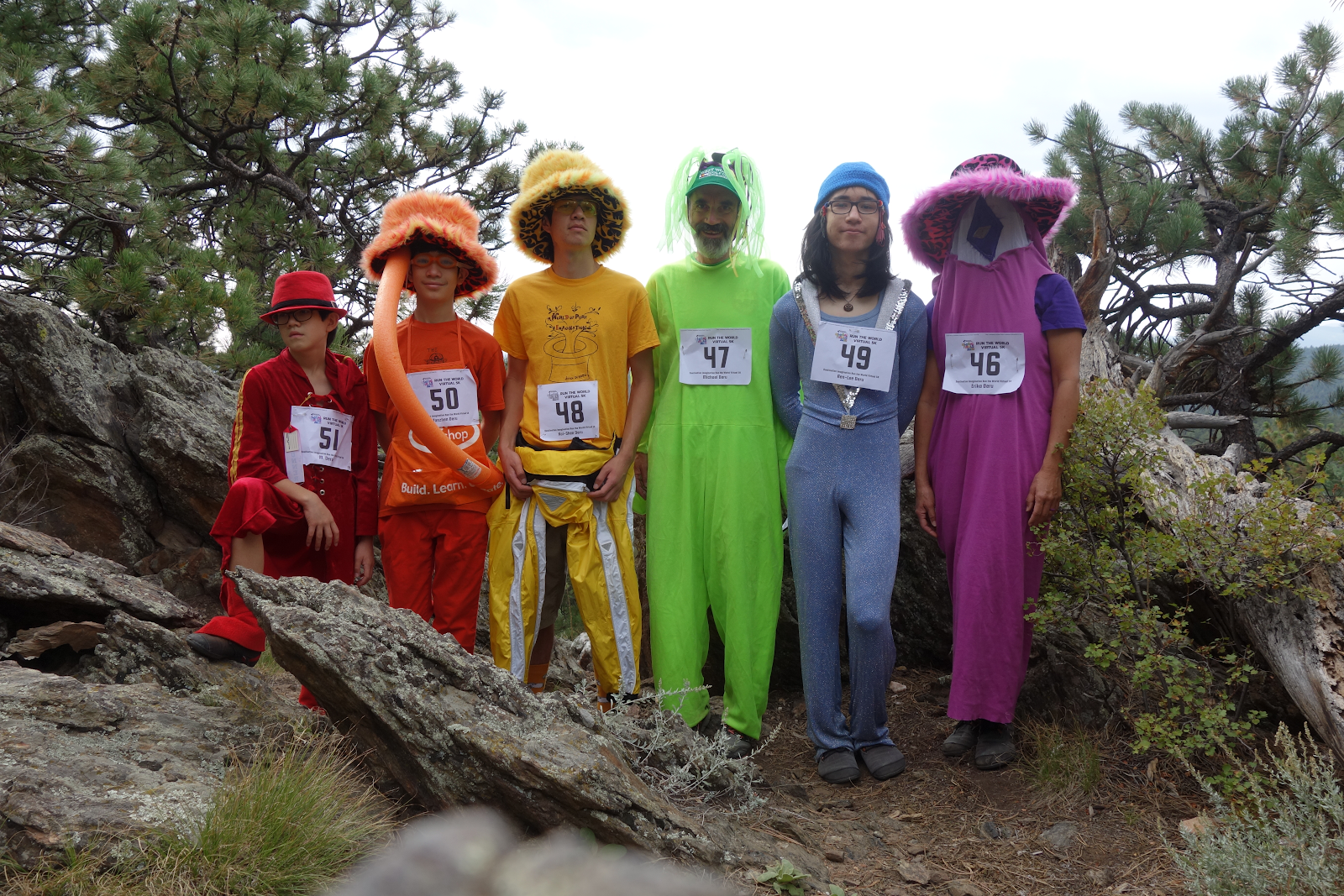 Best Portrayal of a Literary Character
Liz Poling-Hiraldo from Croton-on-Hudson, New York
Liz completed her 5K on her treadmill while dressed as Ms. Frizzle from "The Magic School Bus" book series.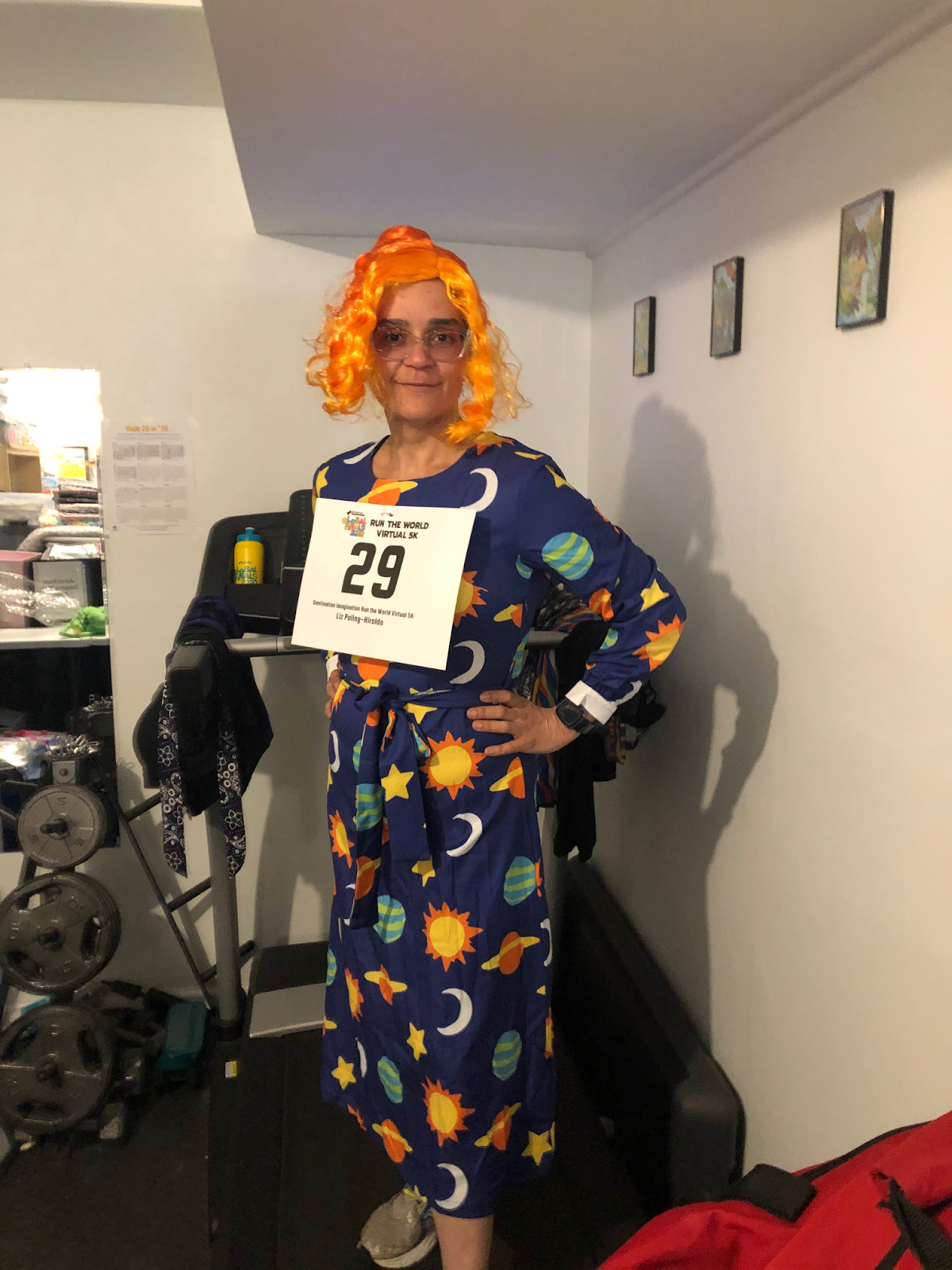 Not only is our DI community creative, but they are also pretty fast! Below are the runners with the fastest time in each of the following age groups. Way to go, go, go!
Race Winners (Fastest Times)
Fastest Girl (9 and younger)
Katherine Usoltseva
Edmonds, WA
Time 24:06
Fastest Boy (9 and younger)
*There were no participants for this age category
Fastest Girl (age 10-17)
Jenna Jacobsen
Midlothian, TX
Time 26:25
Fastest Boy (age 10-17)
Brooks Workman and Rylan Workman
Salem, MA
Time: 27:51
Fastest Woman (age 18+)
Kathleen Crowley
Ossining, NY
Time: 26:45
Fastest Man (age 18+)
Kevin Farley
Chicago, IL
Time: 19:27
All DI Run the World 5K results can be found HERE.
Did you miss the opportunity to participate in the Run the World Virtual 5K and still want to help DI by making a donation? You can show your support by clicking HERE and making a donation today.
Thank you to all of our racers and all of our donors. We can't wait to see you all (hopefully) soon!