Destination Imagination (DI) is seeking extraordinary individuals to help us make a greater, more equitable impact on global STEAM education.
We are a global educational nonprofit on a mission to inspire and equip youth to imagine and innovate through the creative process. From Alabama to Australia and in-between, our global network of Affiliates, volunteers and educators are standing up and making an impact on the communities they serve by bringing DI's transformational educational experiences to youth. These experiences aim to prepare students to be creative, innovative and resilient in constantly changing times. DI's programs center around open-ended STEAM challenges that require students to create unique, one-of-a-kind solutions together. Students who participate in DI programs gain knowledge and skills in STEAM (science, technology, engineering, arts and math) and a host of other empowerment skills – all of which have been highlighted as critical for success in the workforce by the National Association of Colleges and Employers.

For nearly 25 years, Destination Imagination has had a track record of reaching global youth through its network and programs. As we emerge from the pandemic, students need our programming now more than ever.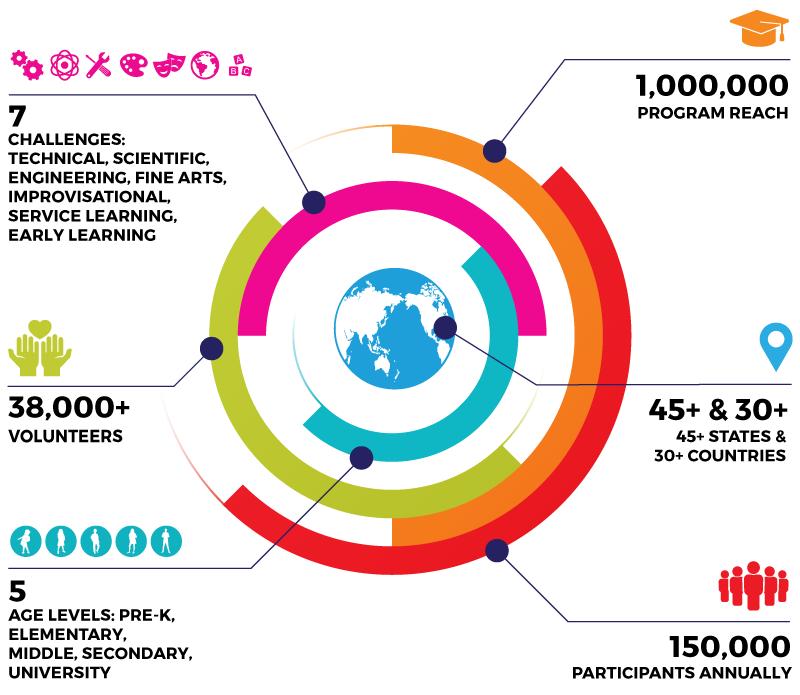 In order to overcome the immediate and future challenges we are facing as a global community, we need to teach youth to be creative, collaborative, and confident leaders. That is why the DI Board of Trustees, in partnership with a passionate and dedicated staff team, is looking for a select number of forward-thinking leaders to join our team to help create a sustainable future for the organization and to expand DI programming to more communities, both in the United States and around the world.
One reason DI has found such long-term success is due to our network—thousands of talented volunteers and participants that know thousands more talented people. If you think you might be a great fit, or if you know someone who is passionate about education, here are the steps to take:
Read more about the role of the Board of Trustees and the specific requirements necessary to apply.
Attend a required upcoming live, 1-hour virtual information session to learn more about DI, our current strategic plan, and the expectations and commitment of becoming a Board of Trustees member. A current board member will be on hand for a Q&A session. Virtual Sessions will be held on the following dates: October 5 at 8 p.m. ET, October 11 at 2 p.m. ET, and October 15 at 10 a.m. ET.
Schedule a 1-1 meeting with a DI leader (Board Chair, Executive Director, Advancement Director) to discuss your interest further and get to know who you'd be working with. This step is not required but encouraged for anyone who is new to DI.
Apply! You'll need to submit a resume or biography, two references, and a cover letter outlining reasons and goals for proposed service on the DI Board; your special skills, talents, and resources; and any other information you would like the Board to consider.

All details regarding virtual information sessions and application submissions can be found in the linked document above.
If becoming a DI trustee is not for you but you know someone who might make a great trustee, please share this opportunity with them. And don't wait—the application deadline is just around the corner on October 31, 2022. Learn more today.