By Monica Alcaraz
When I think of my favorite memories from Destination Imagination, I think of sitting in IHOP at 10:30 p.m. after the Regional Tournament, ordering breakfast, and bonding with our team. After-school meetings with Ramen, chips, and vending machine breaks. Saturday shut-ins at school, taking time to build, paint, decorate, laugh, order pizza, and rehearse. Staking a claim at a cafeteria, cubby hole, or by an outlet at Regionals to camp and prepare for our team's Presentation. Playing mafia and card games to entertain ourselves. Uniting with other teams. Making it to the Affiliate Tournament for the first time and watching the joy erupt on my team members' faces. Seeing the disappointment when the tournament was canceled due to COVID. Watching my team members double down the next year for competition and making it to the Affiliate Tournament and then Global Finals. Using electric scooters to explore Kansas City at Globals. Seeing my team work so hard and diligently during their senior year. Carrying a cardboard cutout of their teammate, Reymundo, who couldn't make it to competition this year because of All-State. Earning the DaVinci Award and fourth place at Regionals. Going back to IHOP to reflect on that day.
Six years ago, I was sitting in my classroom working on grades when my students ran into my room, panting for air. I was surprised to see them and wary of what had caused this reaction when they asked me, "Ms. Alcaraz, will you be our Destination Imagination Team Manager?!" I hesitated, but the look on their faces led me to agree. I truly had no idea what I was agreeing to, but I had just agreed to build a family with these dedicated, intelligent, innovative, and talented kids. I was able to be a part of their growth from 6th grade through 12th, and I couldn't ask for a better experience or better memories to look back on.
This year, as seniors, they decided on a Team Challenge they had never done before: Engineering. The race was on. The team met at Starbucks, home, and in my library; they sent pictures of their progress and continued to build and plan. With this Challenge, they wanted to showcase their interests and skills, and they put so much into it. Between Academic Decathlon, Region Choir, Musicals, Orchestra, Band, and other competitions coming up, the students had a lot on their plate, but they were determined to make it happen.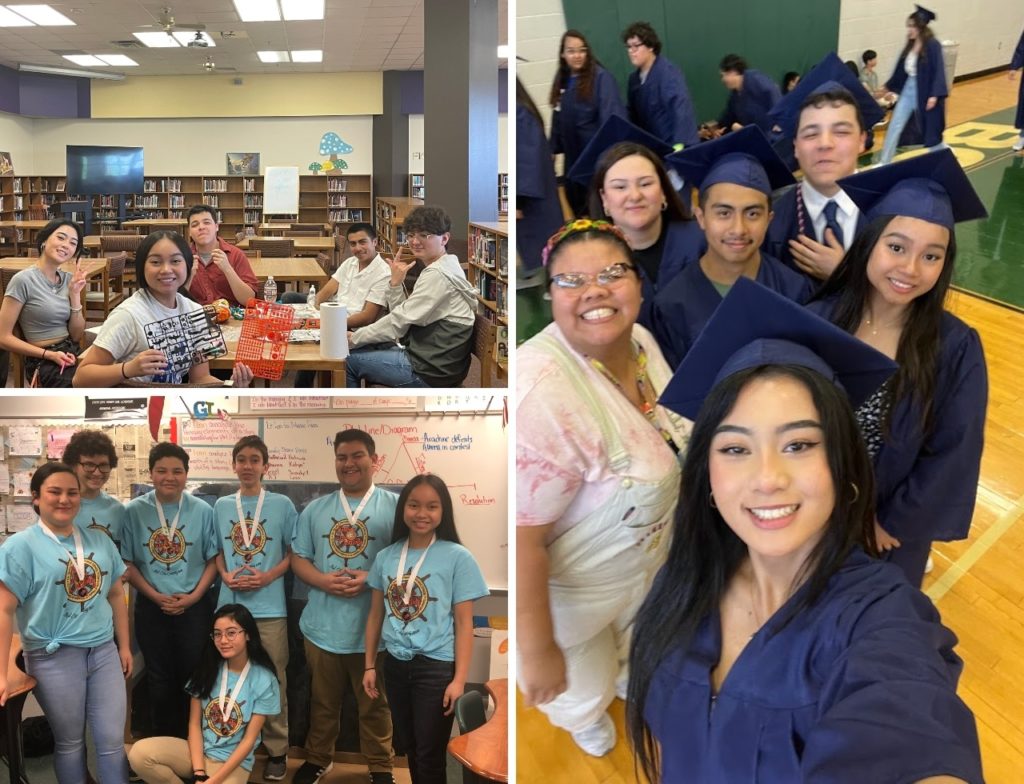 Our final weeks, the team spent almost every evening after school; everyone was doing their part. They dreamed up a massive undertaking, and they worked so hard to make it a reality. They made a mashup of their musical stylings: singing, acting, and building the rollercoaster they had put so much into. The show they put on was engaging, captivating, and everything they had been practicing for. The end result wasn't what they anticipated—they placed fourth and would not continue on to the Affiliate Tournament. This was a hard moment for them, their hopes dashed, the fear that they let each other down consuming them. The only solution was to meet at IHOP.
Reymundo walked into IHOP and came straight to their table, and the conversation turned to him: how was All-State? What were some of the best experiences? How do you feel? The team tried to distract him and shift the focus until it couldn't be avoided any longer. How was the tournament? How did the team do?
The team told him the news—we didn't make it to the Affiliate Tournament. Instead of Reymundo reacting how the team expected, he gave them props. Props for doing their best and for working so hard despite the challenges that came their way. "I should have been there with you guys," he said. His teammates immediately clamored for the first word, explaining to him how he could not put any blame on himself. "You had an amazing opportunity!" The team began to tear up in our booth at IHOP, "We don't want you to think that way. You have done so much to help by organizing and bringing us together."
'Bringing us together' is the most memorable thing about DI. Destination Imagination brought us together, forced us out of our comfort zones, and gave us unforgettable memories of late-night builds, round-the-clock designs, non-stop rehearsals, and genuine friendships. Despite not advancing to the Affiliate Tournament, this group of young adults can still walk away with so much more than they could ever imagine. These memories have been incredible, and I know the future is bright and full of more memories to come for Reymundo, Angelie, Caroline, Ciara, Adrian, Alexander, Dhamar, and every child lucky enough to build a family through Destination Imagination.