Dear DI Family,
It was such a pleasure to see so many of you at Global Finals 2022 in Kansas City! The enthusiasm of the participants was incredible and we hope that you had as much fun as we did. We are looking forward to seeing even more of you next year, as we gather again with our amazing hosts in Kansas City.
I want to send a big "THANK YOU" to our volunteers who once again tirelessly worked to ensure that every team was carefully appraised and received feedback on their solutions. We also thank those volunteers who performed other jobs critical to the operation of the event.
I also want to take a moment to thank the incredible DIHQ staff. As you can imagine, it was tough ramping up after a two-year absence from Globals, but as usual, they rose to the task, and overcame every obstacle presented to them. I've said it before and I will say it again: they are simply the best team EVER!
There is big news from DI: WE MOVED. Since the onset of the coronavirus pandemic in March 2020, DIHQ staff has been working remotely from around the country. Our Cherry Hill, NJ headquarters building was unoccupied for over two years, and the Board of Trustees decided to place it on the market in 2021. The sale was finalized this month.
In keeping a brick-and-mortar presence, DI has moved to a smaller location. Please note this change of address for your records.
Destination Imagination, Inc.
141 S. Black Horse Pike, Suite 203
Blackwood, NJ 08012
Finally, many of you have asked if I am still quilting. The answer is a resounding "YES," and I have attached photos of some recent work below. I am particularly proud of the fabric portrait of my mom, Anna Mable Tuck, at the age of 19. I am currently working on a portrait of my dad!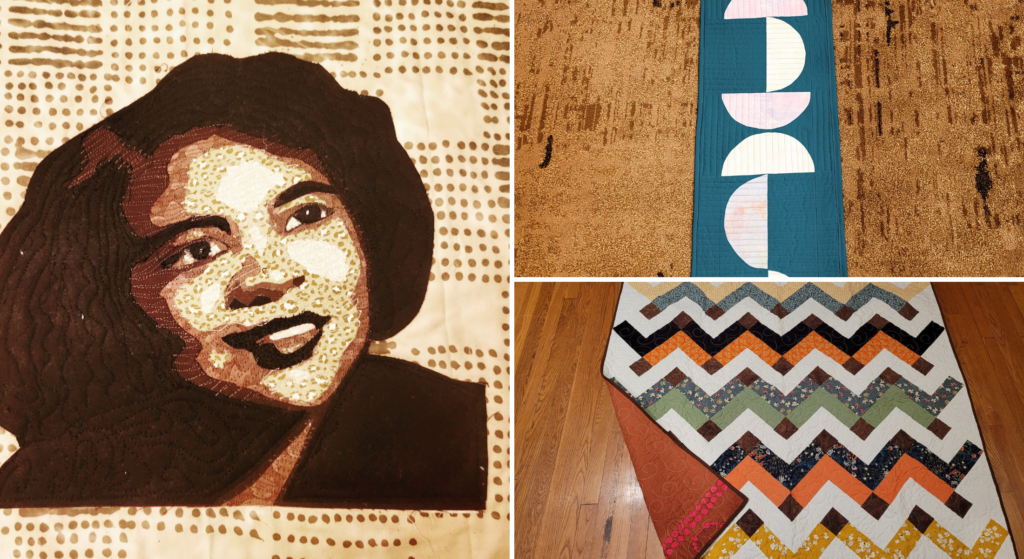 Stay Healthy. Stay Creative. Stay Cool.
Michele Tuck-Ponder
CEO, Destination Imagination, Inc.