By Andrea Keller, Team Manager, Destination Imagination Texas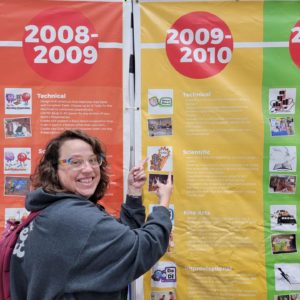 Thirteen years ago, I was asked to manage a Destination Imagination team. I had no experience, no background knowledge, and also do not know how to say 'no.' So, I started a team at the Elementary Level. As the years went on, I realized the importance of Destination Imagination and how more students needed the opportunity to participate. There might be more students, but not always Team Managers. For more than eight years now, I have been managing anywhere from 2-5 teams. I have several co-Team Managers, but I am the main point of contact and organization. With that many teams, I have to be ready to be super organized to manage not only teams, but the parents, other Team Managers, and everything that goes along with tournament day.
The three areas that I focus on to prepare for a Destination Imagination tournament are:
People
Paperwork
Materials
People
Since I manage so many different teams, that is lots of parents, team members, co-managers, and other adults that are interested in seeing these students perform. To prepare for a tournament I create a schedule. 
The schedule includes:
A breakdown of the Team Number, location and time of Team Challenge, location and time of Instant Challenge, and who is specifically in charge of that team (make sure these adults are listed in your registration paperwork!)
A breakdown of the schedule and locations throughout the whole day. There have been times when I needed parents or other adults to help get students to different locations because I am only one person.
Sharing all of this information! These teams have worked so hard throughout the year and it is important to let others know how they might be able to watch them. I send an email to my whole staff about what our students have been working on and how to support them on the day of competition. I also make sure the parents know all the ins and outs of the day!
Check out my sample schedule here.
Paperwork
I come from the days when we had to bring 6 copies of each piece of paperwork to the competition. I LOVE that we are digital! It makes life so much easier. Even though we are digital, I still make copies to leave with each team and Team Manager. 

Each team has a folder that includes:
a copy of their team sign with their Team Number on it
a map of the day
a copy of the schedule for the day that pertains to our teams
a copy of all the Team Challenges so they can go see others
a copy of the Tournament Data Form, Expense Report and also Team Challenge Prep Checklist
Each Team Manager has the above information along with permission forms required by the district.
As the main coordinator, I also carry a 3-ring binder that has all the information for all the teams and anything else that I might need to hold onto. Because you know things get lost! I know that everything is online, but it is helpful for the teams to be in charge of their own paperwork.
Materials
As you know, Destination Imagination teams can have SO MUCH STUFF!!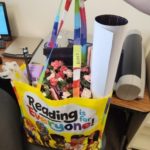 Each team has a bag (sometimes they might need two). Not only do they have a bag, but EVERYTHING is labeled. There is always going to be something that is forgotten, but having this put together helps.
To stay connected with everyone, we also use GroupMe which has parents in the chat as well. If you use a program like this, it is important to follow your district guidelines and expectations. 
There are lots of other odds and ends that I do to stay organized, but these are my three main ones to get me through the day.
Interested in guest blogging for us? Email us at [email protected].