Virtual Global Finals 2021 was a HUGE success and we loved seeing so many incredible Team Challenge solutions and out-of-the-box thinking. As we all take a break before a new and exciting season of Destination Imagination, we're planning to keep the creative streams flowing!
Join us for the 2nd Annual Destination Imagination Run the World Virtual 5K! That's right, we're back ~*movin' and groovin'*~ to celebrate creativity and innovation in support of Destination Imagination (DI) and we want YOU (and all of your creative friends and family) to be a part of the fun.
So, grab those headphones, lace up those sparkly shoes, and put on your most creative outfit – we're going virtual…again!
Here's how it works.
The DI Run the World Virtual 5K begins on September 1, 2021 and ends on September 29, 2021. Since this race is virtual, there is no specific starting point, so you can start anywhere you want (a treadmill, a park, etc.). Just queue up your watch or favorite running app, hit "start" and you're off! You can complete the 5K any way you'd like. Like we said, the course will be one that YOU create – just as long as the route you've chosen is safe!  
Since this IS a DI event, we are asking you to go ALL OUT and show the world just how creative you are. Create a silly hat out of found objects, decorate your race attire or wear a homemade costume – like a duct tape tutu or a dragon costume made from used soda can tabs. Go crazy – as long as it showcases your personal creativity and has a high probability of turning heads as you go by, we're HERE for it! 
The DI Run the World Virtual 5K is open to kids and adults – anyone, really! The cost to participate is only $10 ($8 registration fee, plus a $2 processing fee).
It pays to be generous.
This is a special fundraiser that is meant to raise critical funding for DI to continue bringing the highest quality educational experiences to students all over the world.
Other ways to support DI through the 5K:
Purchase race swag — like a limited edition T-shirt, tote bag and/or water bottle. All race souvenirs will be shipped on October 6.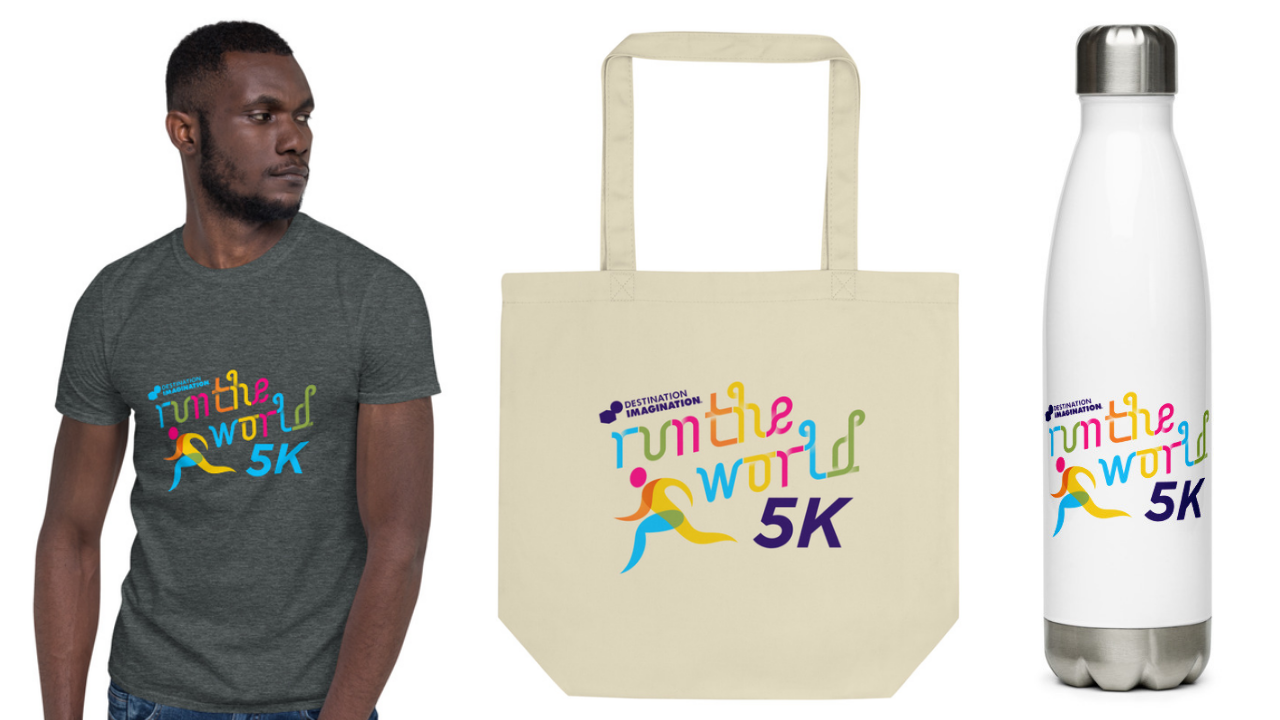 When you donate $50 or more, your registration fee will be waived!

When you donate $100 or more, your race T-shirt will be free!

Create or join your own fundraising teams to will a FREE DI Team Number when your team cumulatively raises $1,000 or more!

Refer at least 3 friends and family to participate and you'll get your registration fee waived!