Destination Imagination (DI) alumni across the globe are rising to the challenge of creatively combatting coronavirus. Recently, we caught up with Mark Mayo, a DI alum and long-time volunteer supporter, who is making a difference in the fight against Covid-19 through his work as a state-level public health leader. Here is what he had to share with us…
Mark, what is your job?
I am an internal medicine physician at the University of Washington in Seattle, Washington.  I work as a hospitalist, which means I take care of patients in the hospital but don't work in a typical primary care clinic. Most people who are sick enough to be hospitalized with Covid-19 will be taken care of by a hospitalist like me, unless they need to be in the intensive care unit where their care would be overseen by a critical care specialist.
How has it changed since coronavirus and how are you getting creative in order to save lives?
Unfortunately, the virus has created an Instant Challenge of sorts for healthcare systems in the United States and around the world.
Fortunately, medicine is all about teamwork and creative problem-solving. As many of us know from social media and news reports, there are a lot of possible treatments being explored for the coronavirus pandemic. Figuring out which, if any, of these treatments are safe and effective in treating Covid-19 is a huge undertaking! Thinking of ways to possibly treat a new infection takes creative thinking—what tools and treatments do we already have in medicine and how might any of these be helpful for treating this new disease? While I have been a front-line patient care provider and not directly involved in any of these research efforts, the amazing people trying to come up with treatments for coronavirus stand out to me as an awesome example of creativity.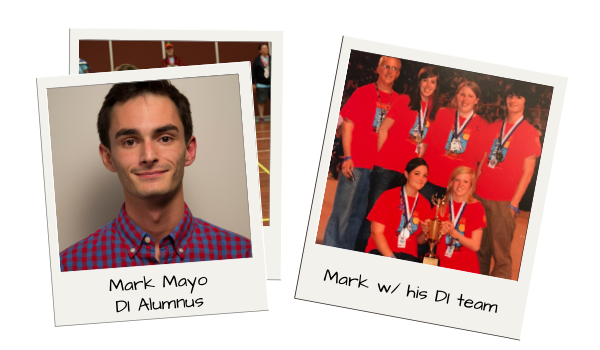 How did DI help prepare you in responding to the global pandemic?
The most important skills that I've brought with me from DI are teamwork, problem-solving, and communication. Effective communication with people from many different disciplines and departments within the hospital has been crucial to responding to coronavirus. We all have different viewpoints and ideas about how to deal with the many challenges we are facing, and we have to work together to align all of the pieces of this puzzle.
What's next for you in the short and long term?
I am so happy with my job as a hospitalist at UW! For the next weeks to months, I think we will continue to take on the coronavirus challenge here in the hospital. Beyond that, it would be great to get more involved in ongoing research efforts with my colleagues at UW.
What advice would you give to the DI community about how they can help?
The most important thing for now is to continue following social distancing recommendations from government and public health officials. There is already some hope that we are flattening the curve in some parts of the country which will be HUGE! Trying to find creative ways to stay busy and continue to be productive while you are practicing social distancing from home can be hard – like with the new Virtual Global Finals event! If you have extra time and energy, consider exploring volunteer opportunities within your local community. Also, make sure to check in with people you know who are still going to work in essential job roles – it is a trying time for everyone, and words of support and encouragement can go a long way.
To learn more about the great things our alumni are doing, follow our Destination Imagination Alumni Ambassadors on Facebook.