Destination Imagination (DI) alumni are #CreativelyCombatingCoronavirus all over the United States—leading teams of people and rising to the challenge in these uncertain times. Recently, we caught up with Andy Pickett, a DI alum and long-time volunteer supporter, who is making a difference in the fight against Covid-19 through his work as a state-level public health leader. Here is what he had to share with us…
Andy, what is your day job?
I am the Director of the Bureau of Emergency Preparedness and Response, within the Pennsylvania Department of Health. My job involves working with a great team to ensure that our commonwealth's public health and healthcare infrastructure are prepared to respond to disasters and emergencies of any kind, and of course, helping to guide that response when those situations come up.
How has your role changed since Coronavirus and how are you getting creative in order to save lives?
For the last 10 weeks, we have certainly shifted from "preparedness" to "response" mode! On January 27, we activated our department's operations center (DOC) and have been working 12 hour days, 7 days a week to ensure a coordinated public health and medical response, with federal, state, and local stakeholders. But this level of response does require a level of creativity, especially when resources are limited. Our teams have had to find creative solutions to get the right resources to the right people at the right time. We are also having to be creative in how we receive and share information. Knowing what is going on at the local level is important to allow us to make decisions, and with so much changing so rapidly, we have to find creative ways to leverage existing systems and practices to get that information from the front lines. We are also trying to find creative and innovate ways to leverage the scarce resources (such as PPE) we have available to make sure they can be used to prevent the spread of COVID-19 in the most effective ways.
How did DI help prepare you in responding to the global pandemic?
Some of the biggest lessons of DI – teamwork, communication, and problem solving – have been essential to our agency's response. We have many great partners between the various state agencies working together, with our state emergency management agency, our folks doing procurement and resourcing, where everyone has a role and works collaboratively as a team. As we shift from our normal day-to-day job to our response rolls it is great to see everyone learn and adapt. Some people are filling rolls outside of their comfort zone, and sometimes we have to flex to put the right people in the right place at the right time. It's kind of like being on a Destination Imagination team where each team member grows and adapts into their role on the team or within their presentation. I also think this response has taught me, or perhaps reiterated to me, that there is always a solution. It might take a couple of tries, and some brainstorming over a pizza, and some dedicated teamwork…but it's within our grasp if we work at it.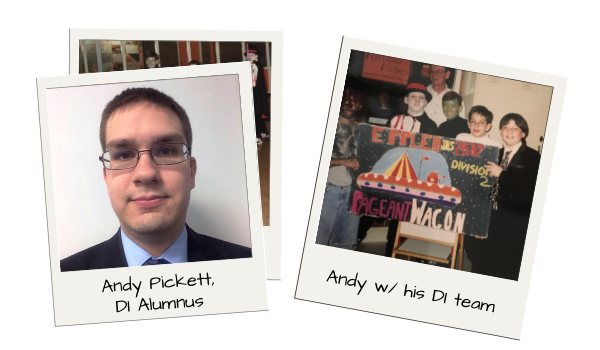 What's next for you in the short and long term?
Well, my short-term goal is to continue to do everything I can to help keep the citizens and visitors of Pennsylvania safe and protected in this current public health crisis. As for long term…who knows! I certainly want to keep finding ways to use creative problem solving to build more prepared communities and more effective responses to disasters. (But I'm certainly looking forward to this summer's Virtual Global Finals event and the excitement of DI next season!)
What advice would you like to give to the DI community about how they can help? (This could be anything from making masks or PPE to just staying home and sheltering in places.)
Please follow the advice of your local, state/regional, and federal/national public health authorities! And remember, the little things we do individually (like covering your coughs and washing your hands) and the little things we do together (staying home, social distancing) are going to help ALL of us make it through as safely as possible.