Destination Imagination (DI) alumni are #CreativelyCombatingCoronavirus all over the United States—leading teams of people and rising to the challenge in these uncertain times. Recently, we caught up with Megan Turek, a DI alumna and long-time volunteer supporter, who is making a difference in the fight against Covid-19 through her work as an Operations Planning, Sales & Inventory Leader for GE Healthcare. Here is what she had to say…
What is your job?
I work for GE Healthcare making medical devices that are used by doctors to diagnose and determine treatment for patients that have coronavirus. I'm the Operations Planning, Sales and Inventory Leader for 4 different manufacturing plants around the world that work together to make these devices. I work with teams in the US, Europe and Asia. My job is to make sure that each team knows how much they need to make to deliver to the hospitals and help each team overcome any challenges they might have to being able to manufacture and deliver these much-needed medical devices. At GE Healthcare, our motto is "Improving Lives in the Moments that Matter" and we are doing that more than ever now.
How has it changed since coronavirus and how are you getting creative in order to save lives?
My roles and responsibilities have expanded greatly, and the work has gotten much more urgent and intense as hospitals around the globe need our devices to be able to respond to the increasing number of patients. I now am responsible for working with 10 plants across 5 countries (previously 4 plants in 3 countries) and coordinating their efforts to respond to the increasing demand. Where we used to have early notice for orders, we're now getting orders that we need to respond to immediately. Different countries around the world are building hospitals in a period of weeks and need medical equipment to bring the hospital online. They rely on us to deliver.
Our suppliers who make parts for us that we assemble into our devices are very critical too. New parts of my job are working with our suppliers much more closely and our logistics teams to move goods around the world when transportation is difficult. We have had to get very creative in how we respond to challenges.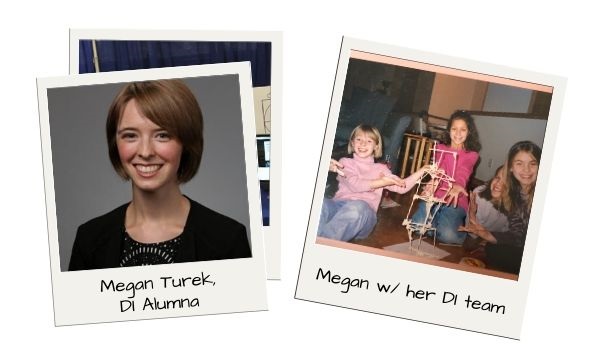 How did Destination Imagination (DI) help prepare you in responding to the global pandemic?
I competed in DI for 10 years and have volunteered as an Instant Challenge Appraiser for the last 10-plus years. I use the creative problem-solving skills I learned in DI every day fighting coronavirus.
DI taught me how to think on my feet and helped me build resilience in the face of challenges. I learned in DI that if the first idea you try doesn't work, move as quickly as possible to the next idea and keep going because the challenge is solvable as long as you keep working at it. That lesson is so critical now.
In DI, I learned to work within constraints, and how to look for opportunities within those constraints (if it doesn't say you can't, then you can!). Now, when we're faced with a challenge such as not getting parts on time to build, I know what questions to ask and what things to work on to improve the outcome. The teamwork skills I developed in DI are especially critical as I work across multiple teams to come up with a solution to each challenge we face.
Every day is the toughest and most urgent Instant Challenge where delivering a solution on time is the difference between a hospital getting the device they need or going without it. My team works around the clock, across time zones, across countries, on weekends to make sure we deliver, and we'll keep solving problems together to get through this.
What's next for you in the short and long term?
In the short term, we'll keep working to overcome as many challenges as possible and deliver to the hospitals.
In the long term, I look forward to seeing my family that lives a long distance away and being reunited in person. 😊
What advice would you like to give to the DI community about how they can help?
I would recommend to our DI community to find creative ways to join the fight against coronavirus. Whether it's sewing masks, learning to print ear guards or face shields on your 3D printer or offering encouragement to your neighbor by writing a letter or posting a happy picture in your window – everyone has a unique set of gifts to offer their community! I personally love seeing notes of encouragement online or in windows, and these uplifting messages help me and many others in my neighborhood stay positive and keep working!