Dear DI Family,
While surfing the internet one day, I came across a beautiful image (of a quilter, of course) that I wanted to hang in my home. Unfortunately, the image was printed on a jigsaw puzzle. A 1000-piece jigsaw puzzle. "How hard can this be?" I thought. Believe me, it's super hard.
When I opened the box and saw all those pieces, I knew that I needed professional help. So, I posted a call for advice on Facebook. People thronged to my page to offer advice and assistance. It was all the same: "Do the edges/frame of the puzzle first. Sort the puzzle pieces by color." I did that and made great progress. But then the colors started to look the same. I sought more advice and was told: "Sort pieces that are the same color by light and dark." I did that and made more progress.
Next, my husband and son were drafted to help with this monster puzzle. Even Sketch (our dog) joined to offer moral support. These days, I can spend an hour, just finding one or two pieces to add to the puzzle. Sometimes, I assemble a big chunk of several pieces and they magically fit together and direct me to the next section. But when I sit down to work on this challenge, I never know whether my strategy will work or not.
Assembling this puzzle has been a lot like leading Destination Imagination these days. Almost one year ago, I sent DIHQ staff home from our Cherry Hill office as a cautionary move because of the spike in Covid-19 cases in New Jersey. I was confident that we would be back together in a few weeks. Clearly, that has not been the case.
Leading DI through this crisis has been the most difficult challenge of my professional career. We experienced a 70% reduction in Team Numbers. Global Finals 2020 was transitioned from an in-person event to a virtual event. The staff has endured position eliminations and furloughs while taking on double duty. One staff member has been gravely ill with Covid and another has a child with the virus. It's been like assembling a big box of puzzle pieces, but each piece represents people's lives.
The biggest change, however, is that in light of our success in functioning in a virtual world, DI's Board of Trustees recently decided to sell our headquarters building in Cherry Hill. This decision is in the best interests of the ongoing financial viability of the organization. The sale of the building will not completely solve our financial challenges, but it is a prudent step to dispose of assets that do not serve our purposes. Since the onset of the pandemic, DI has operated effectively remotely, and we expect to continue doing so in the future.
I know that you, our extended DI Family, have also struggled to keep our program going for our teams and I am grateful for the effort that you have made.  From waiting patiently for challenges to be issued, to a compressed tournament season, to learning how to host and participate in a virtual tournament. Team Managers have had to figure out how to keep teams together online and utilize new technology. Our kids are sitting in front of computers for hours a day. It's frustrating and challenging. But together, through technology, creativity and grit we are making it work. As we've had to adapt to the challenges of the last year, we've tried to think first about what is best for the students we serve all over the world. We know you're doing the same and we express our deepest gratitude to you for your efforts.
I'm not finished with my puzzle (see below), and we are not finished reinventing DI. I remain confident that standing together, we will see our way through the pandemic, and come out better than ever. We will need to sort and re-sort the pieces, and there will be times that it appears that nothing fits!  But even on those days, we are making progress. There are still big sections that are unknown. Changes in strategy and direction will be necessary, but creativity, critical thinking, collaboration and communication will always save the day.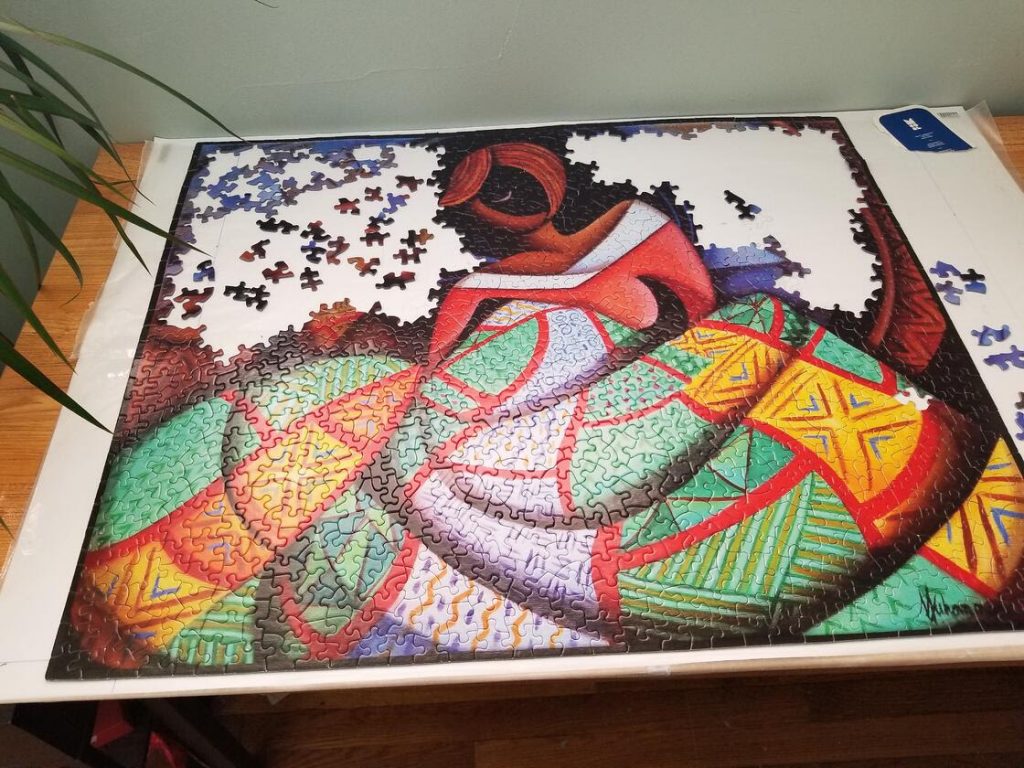 Stay Safe and Creative,
Michele Tuck-Ponder, Esq.
Destination Imagination
Executive Director
P.S. As always, I'd like to encourage you to help us in putting the puzzle back together by taking action today and making a donation to DI. Our organization relies on your generosity and we need your investment now, more than ever, to ensure that we can continue to inspire and equip all youth to imagine and innovate new and bright futures for us all.